FM Approvals was a prominent presence at the Intersec security, safety and fire protection trade show held in Dubai, United Arab Emirates, January 22-24. The trade show is one of the largest in the world focusing on this market segment, with nearly 33,000 visitors from 129 countries in attendance.
Held at the Dubai International Convention and Exhibition Centre, Intersec encompassed 602,000 square feet (56,000 square meters) and featured more than 1,300 exhibitors from 58 countries. FM Approvals was a featured sponsor of the Intersec Fire Safety Conference, which included the inaugural keynote address by the General Director of Dubai Civil Defence, Major General Rashid Thani Al Matroushi.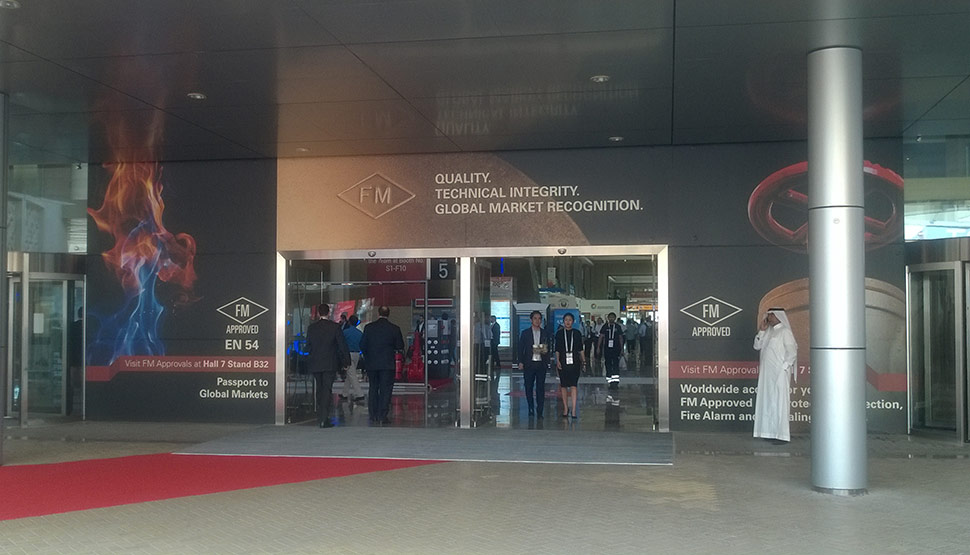 One of the highlights of the Fire Safety Conference was the introduction of a new version of the UAE Fire and Life Safety Code, first introduced in 2011. The revised codes incorporate new chapters, and hundreds of new illustrations and tables.
Many manufacturers producing FM Approved products are selling products into the Gulf Cooperation Countries (GCC) in support of the area's ongoing building boom. Fire and safety products were a $2.5 billion market in 2016 in the Middle East alone, according to market research publisher Frost and Sullivan.
During the Fire Safety Conference, held during the first day of Intersec, attendees learned about the latest developments in Limiting Fire Propagation for Exterior Wall Systems from FM Approvals general manager Paris Stavrianidis; and Corrosion in Fire Protection Systems and Corrosion Mitigation for Dry/Preaction Systems from Abby So, FM Approvals Asia-Pacific new business development manager.
FM Approvals also provided information to attendees on the latest innovations in detection, alarm, signaling, suppression and EN 54 certification and CE marking options.
Also in attendance from FM Approvals were Witali Engelhardt, based in Frankfurt, Germany; and Vinay Philip, Yassar Nabeel Mohamend and Prasad Kulkarni, based in Bangalore, India. In attendance from FM Global were Ishfaq Khan, manager WorldReach® Network, EMEA; and senior consultant engineers Vidur Berry and David Rigby.
"We take part in a lot of industry shows and conferences throughout the year," notes FM Approvals Abby So. "Intersec Dubai is unique in its broad international appeal for both exhibitors and attendees. There is no other single show that offers this much diversity in the Asia Pacific region. I believe that the construction boom in the region contributes to the large turnout, but the increased emphasis, particularly in the UAE, on the use of certified high-quality fire protection systems and building materials is also an important factor."