FM Approvals will soon break ground on a new Electrical Hazards Laboratory on the FM Global Research Campus in West Glocester, Rhode Island, USA. The 37,200 ft2 (3,455 m2) facility will provide expanded testing capacity and capabilities for a wide range of electrical products intended for use in hazardous (classified) locations and other applications.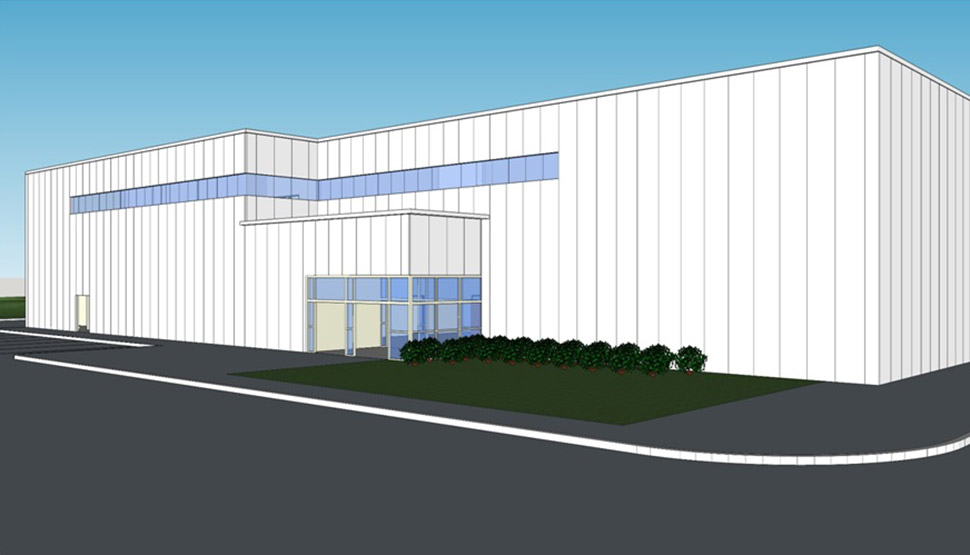 The two-story structure (see figure 1), expected to be completed in early 2019, will be the first new stand-alone electrical laboratory built on the research campus in 14 years. The equipment and staff at the current electrical hazards laboratory in West Glocester (see figure 2) will be transitioned over to the new laboratory during a period of correlation testing and calibration. Certain other current electrical laboratories will also be moved to the new facility
FM Approvals has chosen to invest in this new testing facility to further support efficient product testing for customers. The new laboratory will include two explosion test cells, one for small products and samples and the other for large equipment, such as that used in the mining and power generation industries.
"While the electrical hazards laboratory we built in 2003 allowed us to handle large equipment, we can only do so one at a time," notes Bill Lawrence, FM Approvals operations vice president and principal engineer for hazardous locations. "Very few manufacturers have their own test facilities, so they depend on third-party laboratories like us. The new laboratory facility is going to allow us to provide results faster, and evaluate more customers' products in parallel."
Electrifying growth
At the turn of the 20th century, electric power was a new and rapidly expanding way to drive large machines, move trains, improve mining operations, provide light, and, generally help accelerate the industrial revolution. The first National Electrical Code® was published in 1897 and, not surprisingly, in that same year the earliest version of what would become the Approval Guide was published.
The nine-page Approved Electrical Fittings booklet, issued by the Factory Mutuals' Inspection Department, contained tested electrical products, including waterproof lamp sockets, receptacles, flexible cords, fuses, conduit tubes, magnetic circuit breakers, snap switches, and lightning arrestors. Today, FM Approved electrical products and systems number in the tens of thousands.
As FM Approvals has expanded around the world, the demand for FM Approved electrical products has grown dramatically. Many products are tested and FM Approved, including gas, flame, heat and smoke detectors; fire alarm and signaling systems; hydrocarbon leak detectors; insulated heating cables; process control instrumentation; valve actuators; submersible motors; motor controllers; vapor control valves; and many other products.
In addition to its current 4,200 ft2 (390 m2) electrical hazards laboratory at the research campus, FM Approvals also maintains specialized electrical test laboratories at its headquarters in Norwood, Massachusetts, USA. In recent years, one large category of testing has seen the greatest surge in demand—the testing of electrical equipment for use in hazardous locations (sometimes referred to as potentially explosive atmospheres).
Global leadership
FM Approvals is a world leader in the testing and certification of electrical equipment for use in hazardous locations and can help manufacturers seeking global certification develop comprehensive testing and certification programs that address the specific requirements for their products around the world. View the full list of testing and certification services.
FM Approvals is recognized as a Nationally Recognized Test Lab (NRTL) by the Occupational Safety and Health Administration (OSHA) in the US, a Certifying Body by the Standards Council of Canada (SCC) in Canada, an ATEX Notified Body in Europe, and a Certification Body under the IECEx Scheme by the International Electrotechnical Commission (IEC). [To see full list of FM Approvals' accreditations, please visit this link: http://www.fmapprovals.com/about-fm-approvals/accreditations]
"The past ten years have been the busiest we have ever been," says Andy Lozinski, FM Approvals assistant vice president and technical team manager. A 27-year FM Approvals veteran, Lozinski oversees the current electrical hazards laboratory at the research campus. "The demand for equipment certified for use in hazardous locations is growing globally. Manufacturers want to come to us for all of their global testing and certification needs, from preliminary design reviews to full certification programs."
He continues, "However, we currently have only one explosion test cell, which is here in West Glocester. That has led to a significant backlog at times. Our customers have told us that they want a one-stop source for all their global testing and certifications. We can effectively meet this need through our various global accreditations and our new laboratory."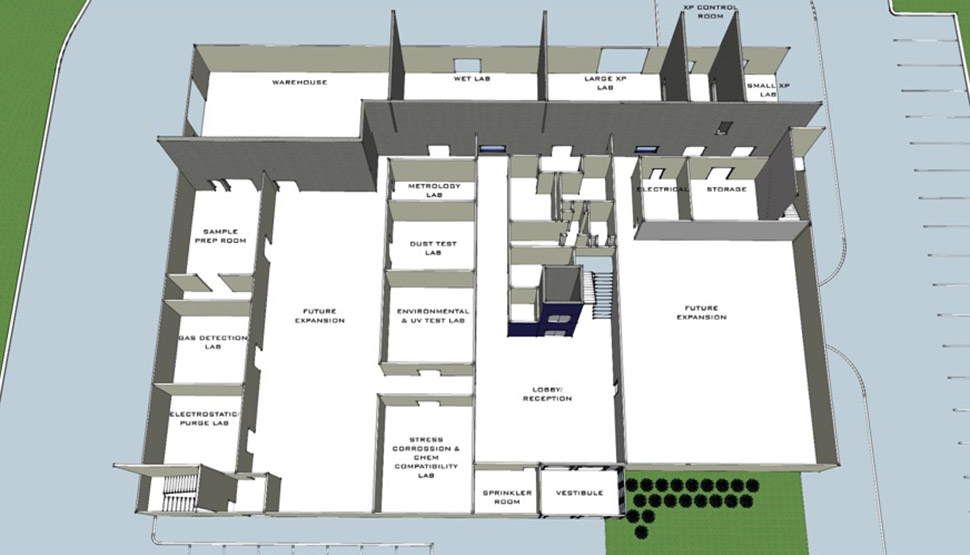 In addition to the two explosion test cells, the first floor of the new laboratory (see figure 3) will include labs for hazardous location certification, including metrology, corrosion and chemical compatibility testing, electrostatic testing, environmental testing and gas detection testing (see related story). The second floor of the new building (see figure 4) will provide office and conference space for technical staff.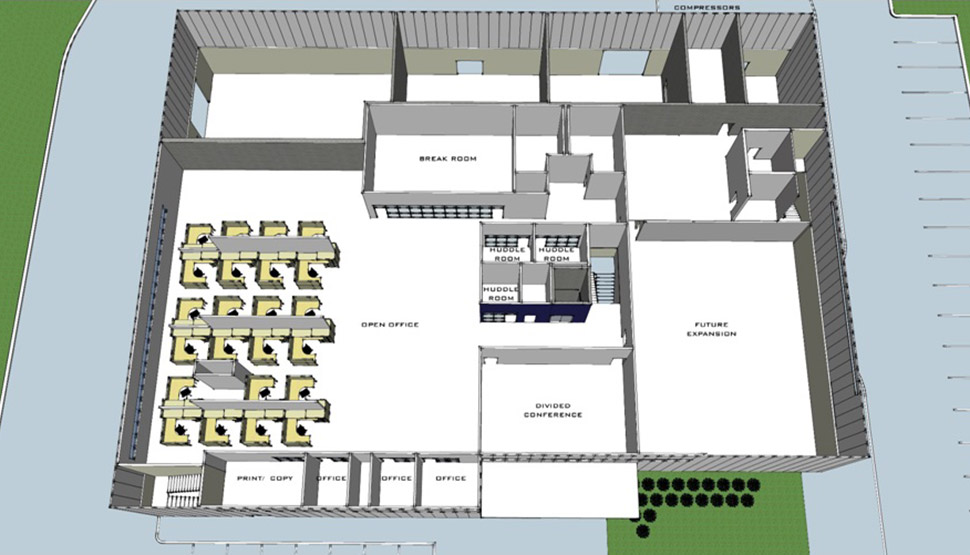 "FM Approvals is one of the top tier certification bodies for hazardous location certification globally," notes Jeff Olson, president of Haz Loc Quality Systems, and former manager of quality and regulatory compliance for Flowserve Corporation. "Of course, they provide the FM Approvals diamond for North America, but we also rely on them for ATEX and IECEx certifications as well. We use IECEx test reports for additional certifications around the world, such as in China, Australia, the Middle East, and other parts of Asia."
Olson adds, "In the old days, we would have to work with five or six agencies to get all of the certifications we needed, which means coordinating five or six separate certification programs, sets of sample products, and staff. For us and others, the new FM Approvals electrical hazards laboratory will enable us to conduct more of our preliminary testing with FM Approvals as well. That means faster time to market and savings in time and money by having everything done by one testing agency."
Jim Marquedant, vice president and manager of FM Approvals' electrical systems group, observes, "It has been a challenge in recent years to accommodate our customers' needs when it comes to preliminary testing or discovery work. With only a single explosion test cell at our current lab, we were sometimes limited in the extent of the services we could provide in a timely manner. With our new laboratory, we'll not only have an extra explosion test cell, we'll also have dedicated space for sample preparation and the ability to handle much larger products. Our customers will benefit from faster turnaround times, improved efficiency and more flexibility."