Insured losses from hailstorms are expected to top US$10 billion in the United States in 2018 for the 11th consecutive year. Hailstorms account for 70 percent of the average annual property losses from severe convective storms in the U.S., according to the National Center for Atmospheric Research.
FM Approvals and FM Global have worked together over the past decade to help reduce property losses due to large hail. These efforts have included the research and development of new methods for testing the hail resistance of roof assemblies, revised FM Global Loss Prevention Data Sheets, a new hail zone map based on nearly 350,000 hail reports, FM Approved roof assemblies with greater hail resistance, and the revision of a key roofing standard to include an optional Very Severe Hail rating.
A history of loss
In the past 10 years, hailstorms have caused more than US$3 billion in insured losses in Colorado alone. A single hailstorm on May 8, 2017, pummeled west metro Denver with tennis ball and baseball-size hail that resulted in US$2.3 billion in losses, the state's costliest natural disaster on record. The 1.1 million-square-foot 200-store Colorado Mills mall in Lakewood, Colorado, experienced extensive roof damage as a result of the May 8 storm and was forced to close for more than six months due to extensive water damage to common areas and tenant spaces.
Around the world, large hail annually damages property, destroys crops, and injures livestock and people. Last May, for instance, nearly 18,000 acres of vineyards in France's Champagne, Bordeaux and Cognac regions were destroyed by hailstorms, wiping out the grapes that would have yielded about eight million bottles of wine.
In November 2014, a short-lived but intense hailstorm battered the Brisbane, Australia area. The supercell produced baseball-size hailstones that hit central parts of the city during rush hour, causing damage to some 60,000 cars. The roofs, windows and claddings of more than 22,000 homes and commercial buildings were also damaged, and about 30 people were injured. The number of insur­ance claims exceeded 100,000, with a total insured loss of AUD$1.35 billion.
Large hail common in mid latitudes
Hail most commonly forms in the mid-latitudes in summer when warm temperatures lead to atmospheric instability and thunderstorms. Powerful updrafts keep ice aggregates aloft long enough to grow until they eventually become heavy enough to overcome the updraft and fall to earth.
While extremely large hail is hard to protect against, it is also a very rare occurrence. However, hail of two inches (51 mm) or more in diameter is actually quite common in certain areas of the United States and elsewhere around the world. This fact has been reflected in losses recorded by insurers, particularly in hail 'hot zones' in the United States such as Texas, Oklahoma, Colorado and Wyoming.
Hail resistance
Hail resistance has always been a part of FM Approvals roof system certifications. Approval Standard 4470, Single-Ply, Polymer-Modified Bitumen Sheet, Built-Up Roof (BUR) and Liquid Applied Roof Assemblies for use in Class 1 and Noncombustible Roof Deck Construction, requires a minimum hail resistance of Class 1-MH (Moderate).
FM 4470 was revised in late 2016 to add a higher level of hail resistance—Very Severe Hail (VSH)—in order to provide FM Approved roofing systems that can better resist very large hail. Hail resistance classes that are now part of FM 4470 include Moderate Hail (Class 1-MH), Severe Hail (Class 1-SH), and Very Severe Hail (Class 1-VSH).
Hail resistance is determined using the FM Approvals Test Method for Determining the Susceptibility to Hail Damage of Roof Coverings. To achieve a Class 1-MH or Class 1-SH rating, two test sections of roof assemblies measuring at least 15 x 21 in. (381 x 533 mm) are prepared, one unweathered and one weathered by 1000 hours in an ultraviolet weathering cabinet.
For Class 1-MH, the test apparatus consists of a section of tubing supported above the test sample. A 2 in. (51 mm) steel ball weighing 1.19 lbs (540 g) is dropped from a height of 81 in. (2055 mm) onto the sample, generating an impact energy of about 8 ft lbs (10.8 J). Each of the two test samples—unweathered and weathered—are subjected to 10 steel ball impacts.
The same procedure is used for a Class 1-SH rating; however, the drop height for the steel ball is increased to 141.5 in. (3595 mm), generating an impact energy of 14 ft lb (19 J) over the impact area.
To achieve a Very Severe Hail (Class 1-VSH) rating, three roof assembly samples are required. One sample is unconditioned, one sample is UV weathered, and the third sample is UV weathered and heat aged for 42 days prior to testing.
For the VSH testing, instead of steel balls, 2 in. (51 mm) ice balls (Fig. 1) are propelled at the test samples at a velocity of 152-160 f/s (46-49 m/s) using compressed air to achieve an impact energy of 53-58 ft-lbs. (72-79 J). It has been determined that this impact energy is the equivalent of a hailstone measuring up to 2.5 in. (64 mm).
To date, more than 300 FM Approved roof assemblies have achieved the VSH rating and are listed in RoofNav, including single-ply and multi-ply covers.
Ice balls provide realistic hail analog
Ice balls were first used by FM Approvals for testing hail resistance in 2011 as part of ANSI/FM 4473, Test Standard for Impact Resistance Testing of Rigid Roofing Materials by Impacting with Freezer Ice Balls. This test standard uses progressively larger ice balls to determine the hail resistance of rigid roofing materials such as tiles or planks made of slate, concrete or clay. This test standard was designed to test roofing products intended for steep sloped roof applications.
According to technical team manager for the FM Approvals building materials group, Dan Boardman, "We are seeing a lot of interest on the part of roofing manufacturers in achieving this new VSH rating for their products. We are conditioning multiple roofing samples around the clock right now to accommodate all of the demand. Compared to the many thousands of FM Approved roof assemblies in RoofNav, a very limited number have achieved the VSH rating so far, but that number is going to grow as manufacturers start to innovate, which is what typically happens when a new or modified standard is introduced."
Identifying and minimizing risk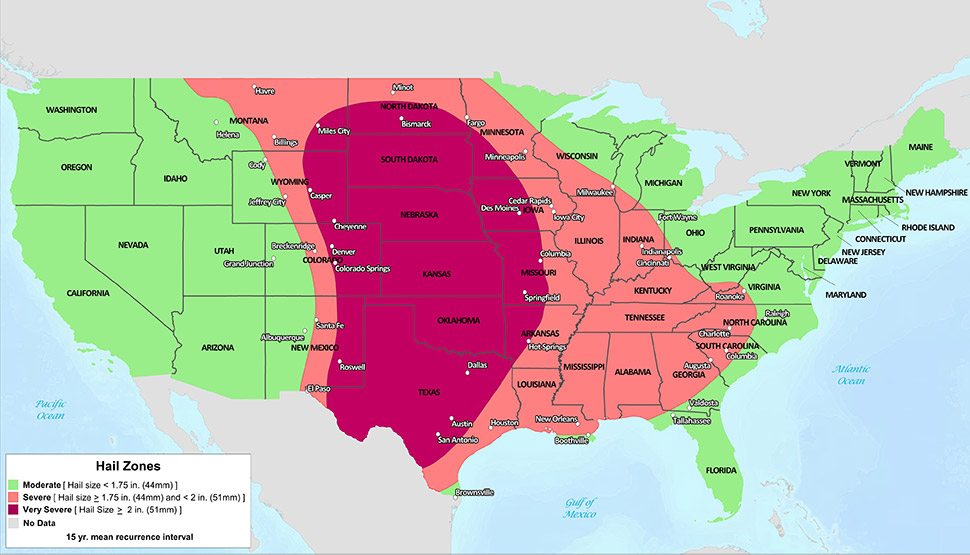 Two important tools designed to help identify and minimize the risk posed by large hail are available from FM Global. One of these tools—a hail zone map—was released last March (Fig. 2) and provides a detailed view of hail risk zones based on data from nearly 350,000 hail events collected by the U.S. government since 1955.
The map, now part of the newly revised FM Global Property Loss Prevention Data Sheet 1-34, Hail Damage, was created by FM Global researchers using advanced modeling techniques. Variables affecting the damage potential of hail—such as the hail terminal fall velocity, density of hail and terrain elevation—are accounted for in the hail map by means of hail hazard zones.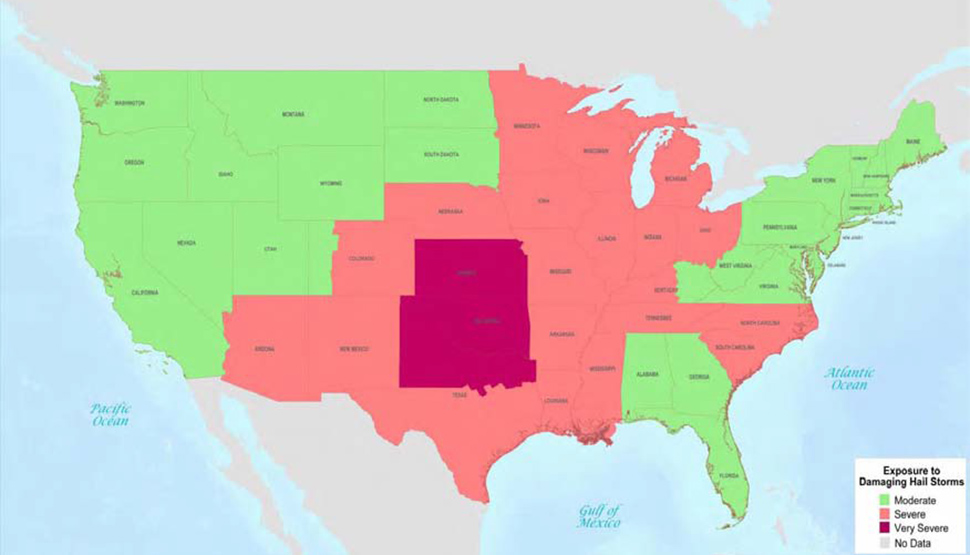 "Our previous hail map (Fig. 3) was driven primarily by our loss experience and not really by the physical hazard itself," explains FM Global lead research scientist Andreas Muehlbauer, PhD. "Evaluating hail size and hailstorm frequency together is essential for quantifying the hail hazard. Most roofing systems out there are not VSH rated and start to fail when hail reaches 1.5 inches (38 mm) in diameter. But the likelihood of experiencing two, three or even four-inch hail is quite substantial in certain regions of the United States."
The new map, contained in Data Sheet 1-34, shows a greatly expanded area where very severe hail (≥ 2 in or 51 mm) can be expected in the contiguous U.S., extending longitudinally from Texas to North Dakota and laterally from Wyoming to Missouri. Data Sheet 1-34 also now includes a section devoted to Very Severe Hail recommendations for protecting roofs and other building envelope components from large hail.
According to Bob Zemantic, engineering specialist for FM Global engineering standards, a major concern is the hail resistance of roofs as they age. "We find, for example, that some of the 10-year-old roofs out there with no visible deficiencies are experiencing hail damage from only one-inch hail. Roof samples of older roofs can be sent to our lab for hail impact testing."